Welcome to Cypress Elementary!
We are the Cypress Cubs!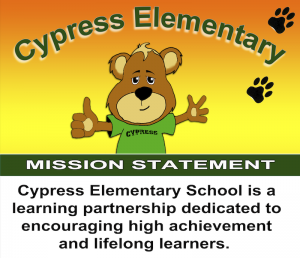 School Hours: 9:30 – 3:50
A Tradition of Education and Community!
Cypress Elementary has proudly educated and served the New Port Richey community for nearly 41 years! Our school includes Prekindergarten through 5th grade and has an average enrollment of 775 students. Our campus is nestled inside the Tanglewood subdivision, but also serves portions of the Golden Acres, Bass Lake, River Ridge, Moon Lake Estates, Crescent Forest, Hidden Lake Estates, and Waters Edge communities.The majority of our 5th grade students move on to attend River Ridge Middle School for grades 6th through 8th and River Ridge High School for grades 9th through 12th.
Cubbie is our mascot and our school color is green!                                    
GOOOOOOOO Cubs!
Cypress PTO sponsors many events at Cypress, and aids is school fundraising.  
Boo Hoo Ya Hoo Breakfast             Fall Festival                              Gingerbread Shop                                   Family Holiday Night                       Daddy/Daughter Dance            Mother/Son Event                        Family Game Night                         Popcorn Days
Cypress PTO also collects the Box Tops for Education and processes them for Cypress.  You can send your boxtops in to your childs teacher.  
Boxtop Collection Sheet for easy collection!
Map to Cypress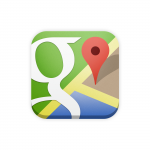 School Boundaries
The District School Board of Pasco County offers a few different ways to determine where your child should attend school according to your residential address.
If you know your exact house number, street name, city and zip code, you can do an address search here: Search Boundaries.  This will tell you which elementary, middle and high school children in your home are zoned to attend.
Note: Be careful if your street name ends with avenue (AV) or loop (LP) as these abbreviations may be different then what you normally use. Also, if you submit your address in the boundary search and are NOT provided your zoned schools, try again without using road name abbreviations.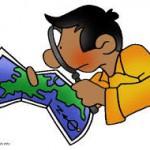 If you are unable to find your address or have other questions regarding school  boundaries,  you may contact the District School Board of Pasco County's Planning Services Department at: (727) 774-7970.
Registering a Student
Registration/Enrollment Packets are available in the front office and include Information and Emergency Cards. Packets can also be mailed to you upon request.
Cypress Elementary does not require appointments in order to enroll your child, and you are welcome to begin the registration process any time during regular office hours.
*Students entering kindergarten for the first time must be 5 years of age on or before September 1, for that school year.*
New to Pasco Schools
Students entering a Pasco County school for the FIRST TIME, at any grade level, must present the following items upon registration at their zoned school.
Proof of Florida residency (such as a recent utility bill, tax bill,  lease agreement signed by landlord, or valid/updated driver's license or identification)

Birth Certificate

Current immunization records

Proof of a physical examination; must be dated and signed by a licensed professional within a year of the student's first day of attendance

Social Security Card

Copy of student's last report card (if applicable)

Copy of student's IEP/ESE records (if applicable)

Legal guardianship records (if applicable; including restraining orders, parenting plans, court orders, etc.)
From Another Pasco County School
Students currently enrolled at another Pasco County School, at any grade level, must present the following items upon registration at their zoned school.
Proof of Florida residency (such as a recent utility bill, tax bill,  lease agreement signed by landlord, or valid/updated driver's license or identification)

Copy of student's last report card (if applicable)

Copy of student's IEP/ESE records (if applicable)

Legal guardianship records (if applicable; including restraining orders, parenting plans, court orders, etc.)
Absences
If your child has been absent, you have a few options in how to notify the school and have the absence considered to be excused. You may:
Send in a note on the day your child returns to school and have it include: student name, ID/lunch number, date(s) of absence, parent's school time contact number, parent's email address, explanation/reason for absence.

Email your child's teacher with an explanation and include student name, ID/lunch number, date(s) of absence, and parent's school time contact number.

Provide a dated Doctor's note with student's name and date(s) of absence.
You are not required to call the school the morning of an absence, but if your child is absent an excessive amount of days without notification, the teacher, school social worker, or other staff member may contact you to determine the reason for the absences.
Absences of THREE OR MORE CONSECUTIVE DAYS require a note from the doctor to be excused.
If you have questions regarding the District School Board of Pasco County's attendance policy, please refer to the school handbook and Code of Student Conduct, located in Student Planners.
Transportation Information
For the safety and well-being of your child, change of dismissal requests CAN NOT be accomplished via telephone.  NO EXCEPTIONS.
District School Buses
Most bus stop locations will remain the same each school year.  During the first several weeks of the school year, morning pick-up and afternoon student drop-off times will vary.  Once all students who will normally ride buses begin to use bus service daily, and new routines are established, designated times may be observed. 
We understand and sympathize with schedule disruptions. Please remember our PRIMARY GOAL is to ensure safe transportation between the school and your student's correct bus stop.
Car Rider
To pick-up children in the car rider loop, you must have an authorized car tag.  If you do not have a car tag, you must park your car, and sign your child out from the office.  We do ask that parents picking up in the car rider loop stay in the car, as well as be courteous to other parents waiting.  Cutting in line, crossing the solid yellow line on Sweet Bay Court, and using the Bus/Staff Only road at student arrival/dismissal threatens the safety of ALL our students, families and staff.
Rainy Day Dismissal
Delays in bus departures can be expected during inclement weather.  If the alternate dismissal is called, students remain in classrooms and are loaded one bus at a time.
Temporary Changes in Arrival or Dismissal
Cypress Elementary continues to require written notification of a child's change of arrival and dismissal . A temporary change must be made in writing and include the reason for the change (i.e. childcare, etc). This can be done by writing a note in your child's planner or emailing your child's teacher from an email address familiar to the teacher. If the teacher does not recognize the email address as that of a parent or guardian or the email is not received in a timely manner (at least one day prior to the change) no change in transportation will be made. Please understand, last minute changes may not be feasibly accommodated; timely planning and consistency is needed for the safety of your child.
Permanent Change in Arrival or Dismissal
Permanent and long-term transportation changes must be done in one of two ways: in person at the front office (please have a photo ID with your name with you), or send in a written note with your child.
Please Note: Any change in residence address requires proof of residence.  A new bus pass will NOT be issued until proof of residence is received by the front office.
Healthy School Team
Under the New Student Wellness Policy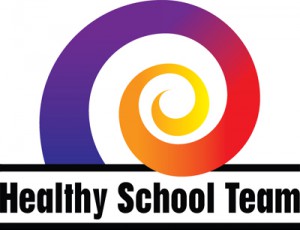 , all schools are required to have a Healthy School Team.  This team must consist of specific stakeholders, and is charged with ensuring school fundraisers (involving food products) and the sale of food items on campus follow  Smart Snack Standards.
Pasco County Schools Student Wellness Page
Media Release Information            Lights, Camera, Action?
Please carefully review the District's "Media Release Non-Consent Form" letter explaining your options as a parent regarding the release of information involving your child. Released information may include directory information, recognitions, honors, awards and media including photographs, videos, and audio recordings to local news organizations, in school publications/newsletters, on school or District related websites, in District-sponsored publications, at school or public functions, and in the school yearbook. If you do NOT want your child's information released, you must submit a MIS 667 Media Release Non-Consent Form to Marygrace Madonia in the front office.  Non-consent is only valid for the current school year; therefore, a new form should be completed at the beginning of each school year.
The District School Board of Pasco County and Cypress Elementary School abide by the Family Educational Rights and Privacy Act of 1974, commonly referred to as FERPA.
School Choice
If a parent wants their child to attend a school other than their zoned school, they must apply for School Choice through the District School Board of Pasco County's Office of Educational Choice. The Office of Educational Choice can be found at the district's website.   School Choice Application
Have More Questions?
If you have questions regarding School Choice, please contact the Office of Educational Choice at (813) 794-2686 or email schoolchoice@pasco.k12.fl.us. 
Congratulations Cypress!
The Florida Department of Education presents the Golden and Silver School Awards to recognize exemplary programs, which promote parent and community involvement in education.
17 Years Receiving the Five Star School Award!
 The Five Star School Award was created by the Commissioner's Community Involvement Council and is presented annually to those schools that have shown evidence of exemplary community involvement. In order to earn Five Star School recognition, a school must show documentation that it has achieved 100 percent of the established criteria in the following categories.

Business partnerships
Family Involvement
Volunteerism
Student Community Service
School Advisory Councils
Florida PBIS Model School Award
2014-15 GOLD DISTINCTION
A Positive Behavior Interventions and Supports: Multi-Tiered Systems of Support (PBIS:MTSS) Model School is one that has met specific criteria and has reported innovative, creative, and functional ways of supporting PBS:MTSS. Specific characteristics of PBIS:MTSS Model Schools are their consistent methods of:
(1) utilizing their data to better serve the students and staff,
(2) teaching PBIS:MTSS to new students throughout the school year,
(3) creative and engaging reward systems,
(4) extending PBS:MTSS throughout the campus and partnering with the community and parents, and
(5) including PBS:MTSS into daily activities across all available teaching opportunities.
2013-14 BRONZE DISTINCTION   2012-13 GOLD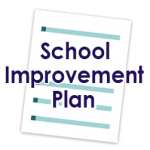 What is a School Improvement Plan?
Strategies and steps that a school will utilize to raise student achievement. A plan may involve new programs, more assistance for students, new curricula and/or teacher training.
Florida Public Schools are required to notify all stakeholders that the School Improvement Plan, updated annually, is available for viewing on the School Web Page.
Click here to see our SIP.  Cypress Elementary School Success Plan 2016-17
Withdrawal Process                                                Moving? Who Do You Tell?
Parents who are planning to move outside of Cypress Elementary School's boundary zone may choose to notify their child's teacher in a note or email. This will allow your child to say their goodbyes to their teacher and classmates and gather their personal items. Personal items left for two weeks after withdrawal will be discarded.
Prior notification of the students' withdrawal is not required but is certainly helpful in assisting both your child, their classmates, and teacher in the transition from Cypress Elementary to their new school.
You've Already Moved?
As soon as you have enrolled your child at their new school, the new school should send a "Release of Records" to Marygrace Madonia, the Data Entry Operator, via email at: mmadonia@pasco.k12.fl.us or fax: (727) 774-4591. When the "Release of Records" is received, the withdrawal process will begin by withdrawing your child from Cypress and gathering transfer grades and records which will be sent to your child's new school.
Student Records
School & Interagency Requests
Schools receiving and enrolling students from Cypress Elementary School and agencies with an active interagency agreement with the District School Board of Pasco County may sent requests and release of records to Marygrace Madonia, Data Entry Operator at mmadonia@pasco.k12.fl.us or fax to (727) 774-4591.
Location of Records & How to Request Copies
Student records are retained by the Pasco County school the student last attended only until five years after a student graduates or was intended to graduate from high school. If you believe records are still in the custody of Cypress Elementary and would like to request copies, your request must be made in writing and include the following:
Student's full legal name (and if different, the legal name while enrolled in Cypress Elementary School),
Student's Pasco County School identification number,
Student's date and place of birth,
Last 4 digits of the student's social security number,
Full legal name of the person making the request,
Statement of the relationship between the student and the person making the request,
The reason for the request,
The address to which the records should be sent,
The signature of the person making the request
If a request is made in person, the person making the request will be required to present a valid government issued identification and fulfillment of the request can take up to 2 business days.
Requests for records of students who have reacher or exceeded five years from the date of graduation or intended graduation should review the ""Transcripts Request"" page of the District's Office for Technology and Information Services.
FERPA & Your Student's Records
The District School Board of Pasco County and Cypress Elementary School abide by the Family Educational Rights and Privacy Act of 1974, commonly referred to as FERPA (Code of Federal Regulations-2003-Title34-Vol34-Vol1-Part99). Please review the simplified brochure explaining FERPA and your rights as a parent, student, and receiving school: FERPA Public Notice Brochure. The following is an excerpt from the brochure:
"The primary rights of parents and eligible students under FERPA include the right to: inspect and review education records, seek and amend education records, and have some control over the disclosure of information from education records.
An educational agency/institution may disclose personally identifiable information from a student's education record without prior written consent of the student's parent or eligible student if the disclosure is:
a) "directory information," which is information contained in the student's education record that would not generally be considered harmful or an invasion of privacy if disclosed. Directory information includes: student's name, address, telephone number (if listed), date and place of birth, dates of attendance at an educational institution, name of most recent, previous educational institution attended, major field of study, grade level, diploma, degrees, awards and honors received, participation in officially recognized activities and sports, weight and height of members of athletic teams, and photograph(s). Parents who object to the release of directory information on their child(ren) must notify the school principal, in writing, within fifteen days of receiving this notification. This should be done on an annual basis.
b) to "school officials", including teachers, who have a legitimate educational interest as determined by school board policy. c) to officials of other schools or post-secondary institutions in which the student seeks to or has enrolled."FERPA Public Notice-August 2008, Student Records. Land O' Lakes, FL: District School Board of Pasco County, 2008.
District School Board of Pasco County Dress Code Guidelines
In order to promote an orderly learning environment in our schools while preparing all students for later success in the world of work, the District School Board of Pasco County has established the following guidelines for student dress:
Students shall wear modest clothing of such style and design as shall be consistent with community standards as determined by the school principal or designee.  Refer to specific guidelines distributed by the school.  Sexually implicit or explicit clothing, bikini and tank tops, and spandex clothing (kinds of clothing usually worn at beaches and while engaging in recreation activities), are not appropriate wearing apparel for school or school functions.
Students may wear shorts and skirts as long as they no more than 4" above the knee.
Blouses, shirts, and sweaters cannot dip below a line formed between the right and left armpit.   Muscle shirts and tank tops are not permitted.  Spaghetti straps and strapless tops are not acceptable.  Tops must be long enough to clearly overlap the belt line or stay tucked in during the course of normal movement throughout the school day.
Students shall keep their clothes, bodies, and hair clean and well groomed.
Students shall not wear hats or head coverings on the school campus during the regular school day unless previously approved for medical or religious reasons or special school activities as determined by the principal or designee.
Students shall wear shoes for foot protection and hygienic reasons while on school grounds or on school transportation.  Slippers are not acceptable.  
Decorations, symbols, mottos, or designs imprinted or attached to the body, clothing, accessories or student vehicle which contain profanity in any form, violent images, are considered vulgar, offensive to good taste or the maintenance of decorum, or which contain sexually suggestive words, phrases or images, advertise tobacco, alcohol, drugs, or which identify them as members of secret antisocial groups or gangs, or which cause an inherent risk of substantial disruption to the educational program, shall not be worn to school or school functions.  Offensive designs imprinted on the body must be covered.
Jewelry shall be worn in a way that does not present a safety or health hazard or cause a major disruption to the educational process.
Wallet chains or dog collars shall not be permitted.
The principal, or designee, shall determine the appropriateness of dress and appearance in accordance with the guidelines distributed by the school.  The principal, or designee, will make the decision if a student's appearance meets school and community standards.  The principal's decision on the appropriateness of dress is final.
If issued, student must be in possession of school badges during all school activities and must present the badge to school officials upon request.
While on any District School Board of Pasco County schools or campus, at any school function or on any school sponsored transportation, students are prohibited from wearing clothing that exposes underwear or body parts in an indecent or vulgar manner or that disrupts the orderly learning environment.  Students' clothing shall be worn appropriately with no abdomen skin or underwear exposed.
Addition note pertaining to shoes:  Flip Flops are not appropriate for Elementary Students.  For Physical Education classes AND playground use, shoes with closed toe and backs are required.